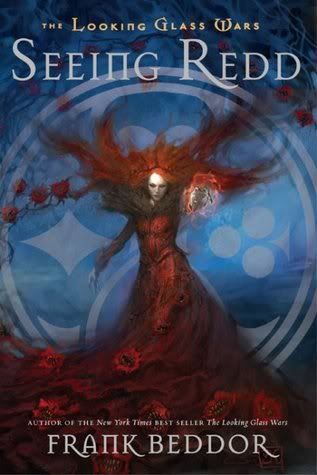 Alyss of Wonderland's rules has only just begun and already those who prefer chaos to peace are threatening to destroy everything worth imagining. Trailed by newly appointed Royal Bodyguard Homburg Molly, Alyss is doing her best to keep pace with the non-stop demands of being Queen while attempting to evade Molly for a few private moments with Dodge. Alyss's life is already a challenging mix of duty, love and imagining when a series of phantom sightings set fire to an urban myth of her imperial viciousness's return and have everyone...Seeing Redd.
Rating: 4 out of 5 boxes
Target Audience: Grown-up fairytale readers
High point: The quality of the re-imagining
Low point: Adult Alyss' bland personality
Reader maturity: 13+
I wasn't a huuuuge fan of
Seeing Redd
's predecessor,
The Looking Glass Wars
, but
Seeing Redd
captured my attention more fully. Alyss' dethroned aunt Redd is a much more interesting villain this time, less All-About-Redd and more Must-Defeat-Alyss. The first novel felt more cold and calculating while Seeing Redd has more whimsy (albeit the war-faring kind) and more Wonderland. Coincidence? I really enjoyed getting to know Hatter Maddigan and Homburg Molly's stories since they were two of my favorites from the first book, as well as Alyss' growth as Queen.
The imagery was fanciful and over-the-top, as befits any story of Wonderland. I was constantly amazed by Frank Beddor's power of imagination. The weapons, defenses and creatures of Alyss' realm are wondrous and plentiful. The descriptions were perfect--giving enough information to clue the reader in to the manner of operation but leaving enough unsaid for the reader to puzzle out through their own imaginative efforts. Fans of
The Looking Glass Wars
will enjoy Alyss' exploits in
Seeing Redd
.
Title: Seeing Redd
Author: Frank Beddor
Genre: Fiction - Fairytale
Year: 2007
Book Source: Borrowed from library