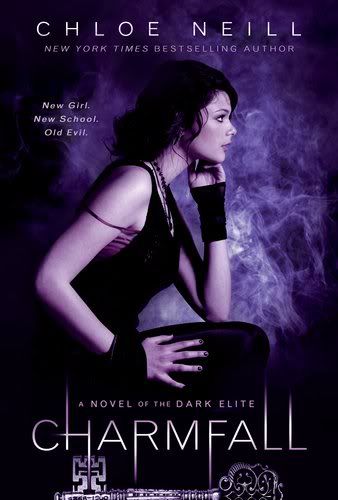 High school can be a battlefield, but for Lily Parker, surviving at St. Sophia's School for Girls is a matter of life and death...

Protecting Chicago from the dark side can be an exhausting job, especially when you're a junior. So when the girls of St. Sophia's start gearing up for Sneak, their fall formal, Lily decides to join in on some good, old-fashioned party prep—even if it means not giving demons, vampires and the twisted magic users known as Reapers her undivided attention.

But when a Reaper infiltrates the school, Lily doesn't forget what she's sworn to protect. She reaches deep into herself to draw out her magic—and finds that it's gone. And it turns out she's not alone. A magical blackout has slammed through paranormal Chicago, and no one knows what—or who—caused it. But Lily knows getting back her magic is worth the risk of going behind enemy lines...
Rating: 4 out of 5 boxes
Target Audience: YA paranormal fans
High point: Lily and Scout
Low point: The set-up
Reader maturity: 13+
I'd been waiting a long time to check in with Lily and Scout and find out what's going on in the Chicago underground. Short answer: trouble.
It took me a while to start
Charmfall
because, while I gave
Hexbound (Dark Elite #2)
a decent review, I remember being disappointed in the characterization and, to a lesser extent, the direction of the story.
Charmfall
wasn't par for the course--it had a different feel than its predecessors--but it's a good kind of different. I liked the addition of an outside enemy, an uneasy truce and inter-group cooperation.
Charmfall
was great at building tension and suspense with plausible red herrings and a great balance between giving the reader enough information to stay invested but withholding enough to stay interested. My only complaint is that the secondary characters seemed to exist only to serve a singular plot purpose rather than enriching the story.
Overall, I really enjoyed
Charmfall
's story development and am crossing my fingers for a fourth Dark Elite novel. Now that Chloe Neill got me excited about Adepts again, I want to know what happens next!
Title: Charmfall
Author: Chloe Neill
Genre: Teen Fiction - Girls & Young Women
Year: 201

2


Book Source: P

urchased