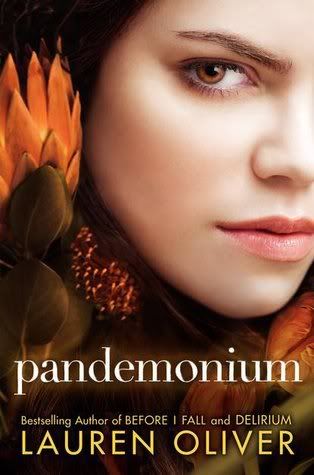 "So what was your name before?" I say, and she freezes, her back to me. "Before you came to the Wilds, I mean."

For a moment she stands there.

Then she turns around.

"You might as well get used to it now," she says with quite intensity.

"Everything you were, the life you had, the people you knew... dust."

She shakes her head and says, a little more firmly, "There is no before. There is only now, and what comes next."

After falling in love, Lena and Alex flee their oppressive society where love is outlawed and everyone must receive the "cure" - an operation that makes them immune to the delirium of love - but Lena alone manages to find her way to a community of resistance fighters. Although she is bereft without the boy she loves, her struggles seem to be leading her toward a new love.
Rating: 4.5 out of 5 boxes
Target Audience: Dystopian and YA romance readers
High point: The introspection
Low point: It left a lot of my questions unanswered
Reader maturity: 13+
As soon as I finished
Pandemonium
, I couldn't wait to read it again.
I enjoyed
Delirium
, but
Pandemonium
had a much bigger impact. It showcases Lena's introspective journey as brilliantly as
Delirium
but with more forward motion and insistence. Lena makes a lot of personal choices that she left to fate or Alex in
Delirium
. Her growth occurs in painful spurts, and she's alternately angsty and naive in between, a perfectly organic transition from innocence to action.
There were a few plot surprises (I love surprises!), although most of the novel was either [tiny SPOILER] Lena-in-the-woods or Lena-under-the-ground, so the focus was mostly on Lena as a character (as it was in
Delirium
). So what made
Pandemonium
so incredible? Crafting intricate characters and a novel that makes readers think is challenging, yet Lauren Oliver excelled.
Pandemonium
gave me as many things to think about as its predecessor and furthered Lena's journey in a way that makes me incredibly excited for
Requiem
!
Title: Pandemo

nium


Author: Lauren Oliver
Genre: Teen Fiction - Dyst

opian


Year: 201

2


Book Source: P

urchased